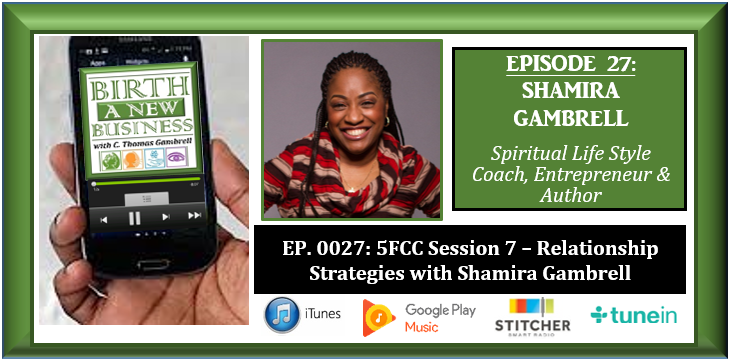 Shamira Gambrell, Spiritual Life Style Coach, Entrepreneur & Author
0027: 5FCC Session 7 – Relationship Strategies with Shamira Gambrell
This episode is Session 7 of a 12-Week Series we did in 2013 titled the "5 F Coaching Challenge". The 5 Fs are; FOCUS, FAITH, FITNESS, FAMILY and FINANCES. The following audio is from the 7th Session on Relationship Strategies featuring Shamira Gambrell. Today's learning nuggets will address practical tips on how to get the most out of your personal and professional relationships.
Shamira Gambrell is an entrepreneur, Spiritual Lifestyle Coach and the Founder of 31 Modes of A Virtuous Woman. 31 Modes of A Virtuous Woman is a practical break down of some of the characteristics of a Proverbs 31 Woman, as well as the everyday application of how you can develop those characteristics in your life. This journey is not for the faint of heart. It takes courage to stand for what's righteous especially when it's not popular. 31 Modes of A Virtuous Woman is a lifestyle; it speaks to the different aspects of how you live your life Spiritually, Financially, Emotionally, Physically, Intellectually this is done via various events, teachings and coaching packages;as well as some of our signature programs such as The Virtuous Living Journey, 7- Day Challenges and our ByFaith Vision Board Parties!
Shamira Gambrell has worked in the field of Social work for over 20 years, helping to empower people from diverse backgrounds and circumstances. She has also served in several leadership positions with the City of NY, which has allowed her to create programs, revise polices and procedure as well as expand current services. She is a contributing author to the book "Success on God's Terms". She is married to C. Thomas Gambrell and currently resides in New York.
Learning Nuggets:
Relationships are the key to success in your personal and professional life.
Resources and Links: