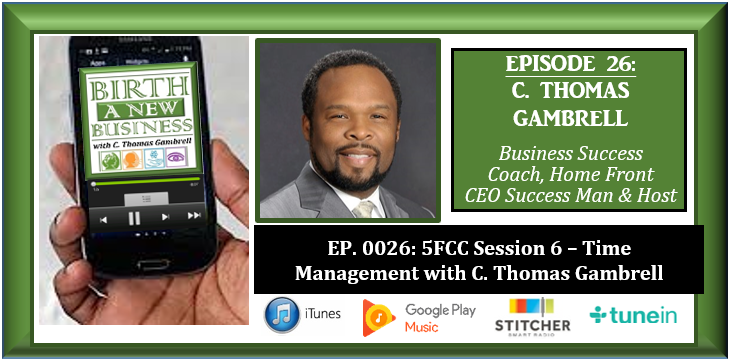 C. Thomas Gambrell, Your Home Front CEO Success Man
0026: 5FCC Session 6 – Time Management with C. Thomas Gambrell
This episode is Session 6 of a 12-Week Series we did in 2013 titled the "5 F Coaching Challenge". The 5 Fs are; FOCUS, FAITH, FITNESS, FAMILY and FINANCES. The following audio is from the 6th Session on Time Management. Today's learning nuggets will address the art of splitting time for daily success. The focus is the understanding of what time is and how to control it to your benefit.
C. Thomas Gambrell is an eminent speaker, trainer and business success coach. He provides coaching and learning management consulting services to solve training delivery, knowledge transfer and information exchange problems for business owners, member associations, corporations, not-for-profit organizations and public sector clients.
As a professional success coach, C. Thomas Gambrell addresses audiences throughout the nation training and inspiring people to become peak performers. Mr. Gambrell's success emanates from a true passion for helping individuals and organizations get more of the right things done in less time.
C. Thomas' captivating messages resonate with a wide variety of audiences because he not only provides inspiration to help others want to be self-motivated, he also shares specific strategies to help them in the achievement of their desired outcomes. Mr. Gambrell offers proven learning strategies and technology solutions that enable organizations to function more effectively in a 21st Century economy.
Learning Nuggets:
Time flows future, present, past.
Resources and Links: