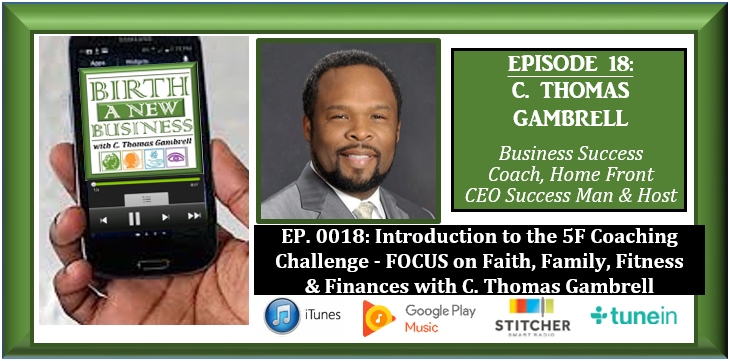 C. Thomas Gambrell, Your Home Front CEO Success Man
0018: Introduction to the 5F Coaching Challenge – FOCUS on Faith, Family, Fitness and Finances with C. Thomas Gambrell
Who is ready to take a Challenge? This episode is an introduction to the C. Thomas Success 5F Coaching Challenge. The 5 Fs are; FOCUS, FAITH, FAMILY, FITNESS, and FINANCES. The following Audio outlines the challenge and gives a little background on myself & my TEAM of Success Strategists.
C. Thomas Gambrell is an eminent speaker, trainer and business success coach. He provides coaching and learning management consulting services to solve training delivery, knowledge transfer and information exchange problems for business owners, member associations, corporations, not-for-profit organizations and public sector clients.
As a professional success coach, C. Thomas Gambrell addresses audiences throughout the nation training and inspiring people to become peak performers. Mr. Gambrell's success emanates from a true passion for helping individuals and organizations get more of the right things done in less time.
Learning Nuggets:
Four areas of FOCUS for Successful Living; Faith, Family, Fitness and Finances
Resources and Links: