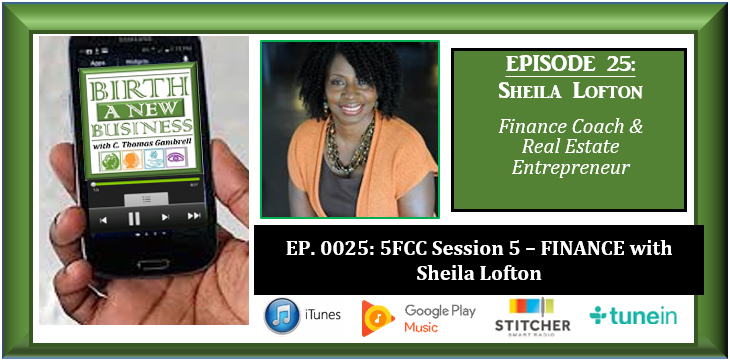 Sheila Lofton, Finance Coach and Real Estate Entrpreneur
0025: 5FCC Session 5 – FINANCE with Sheila Lofton
This episode is Session 5 of a 12-Week Series we did in 2013 titled the "5 F Coaching Challenge". The 5 Fs are; FOCUS, FAITH, FITNESS, FAMILY and FINANCES. The following Audio is from the 5th Session on FINANCE. Today's learning nuggets will address key success strategies relating to FINANCES. Our featured speaker for this is session is Finance Coach and Real Estate Entrepreneur – Sheila Lofton.
Shelia loves helping people with their money issues. You can say it's her profession and passion! She believes that the way to financial freedom and financial independence is learning to create "Cash on Demand". To find out more of what she means listen close,
Learning Nuggets:
Start a business to own a cashflow you can't get fired from!
Resources and Links: