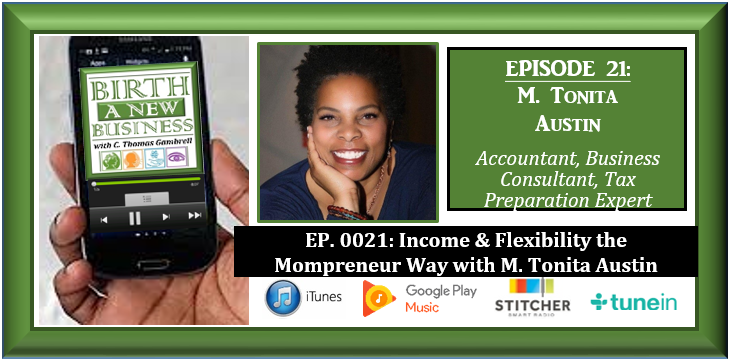 M. Tonita Austin – Accountant, Business Consultant, Tax Preparation Expert
0021: Income & Flexibility the Mompreneur Way with M. Tonita Austin
Mary Tonita Austin (Ms. Austin) is the dynamic founder and President of M.T. Austin and Associates,LLC an accounting and consulting firm with offices in Media and Philadelphia, Pennsylvania.
A West Philadelphia native, Ms. Austin is a mother of two children and is a solo parent. She founded M.T. Austin and Associates (formerly A.H. Consulting, Inc.) in January of 2000 after more than a decade in the commercial real estate accounting industry, to allow her the flexibility to care for her new family.
As an entrepreneur with over 30 years of professional experience within the financial industry, Ms. Austin has an established history of partnering successful business practices with paramount customer satisfaction. Ms. Austin brings to M. T Austin and Associates her passion for supporting her community and her experience-based knowledge of working with CEO's of major corporations, non-profits and small companies. Her consistent focus and commitment to the care, attention, and service provided by her firm has earned her recognition from peers and clients alike.
Ms. Austin is a Wharton School of the University of Pennsylvania alumna where she finished studies initiated at Columbia University, New York, admitted on full scholarship with the first class of women.
Ms. Austin is an active member of the African American Chamber of Commerce of Philadelphia, Delta Sigma Theta Sorority, Inc., and an executive board member of Daddy University Inc. Ms. Austin maintains a membership with the American Institute of Certified Public Accountants to stay abreast of updated tax and accounting regulations and plans to pursue the completion of her CPA designation.
Learning Nuggets:
Find a Mentor and Take them to Lunch!
Resources and Links: